Monday, February 21, 2005
ALICE IN CHAINS BENEFIT CONCERT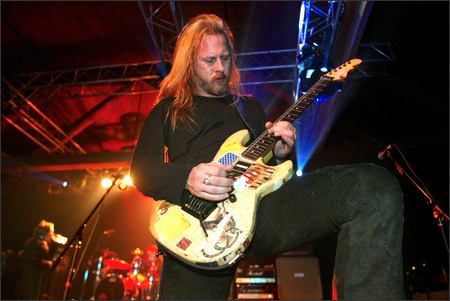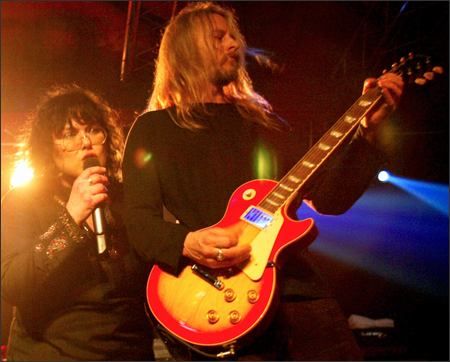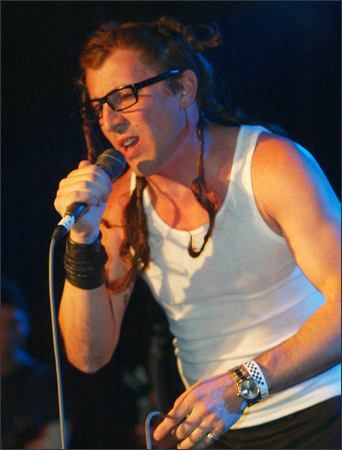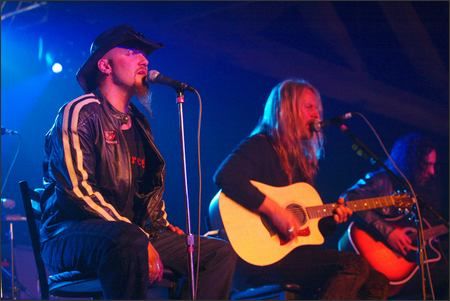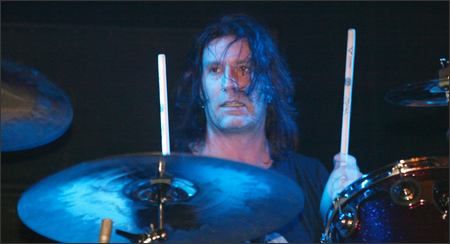 (pictures courtesy of Seattle P-I)
Alice in Chains owns stage in tsunami-relief show full of surprises
---Maynard James Keenan singing "Man In The Box" and "Them Bones"
---Ann Wilson singing "Brother"
Those were just two of the highlights that took place during the benefit concert for the victims of the Southeast Asia tsunami tragedy at the Premier in Seattle on Feb. 18. The benefit concert, which raised over $100,000 for the relief efforts in Southeast Asia, featured the remaining members of Alice In Chains, Ann and Nancy Wilson of Heart, Sir Mix-A-Lot, the Supersuckers, and Nirvana bassist Krist Novoselic.
I would have loved to have seen Maynard singing AIC tunes. Certainly nobody can replace the late great Layne Staley, but Maynard definitely has the vocal range to sing any rock song, especially those from Alice In Chains' catalog.
Damageplan's Pat Lachman and Puddle of Mudd's Wes Scantlin were also at the concert this past Friday. I commented a few weeks back that Lachman would be a good fit in Jerry Cantrell's solo band. Lachman more than held his own with Damageplan.
Hopefully this show was recorded for future use on CD and/or DVD. I guarantee that if this show was released on CD and/or DVD, there would definitely be more money raised for the tsunami relief efforts. In the meantime, I hope to post more material here in the coming weeks. We'll see what happens, though.
Saturday, February 05, 2005
CRAPSHOOT
From Black Label Society's
official site
:
ZAKK WYLDE IN TV PILOT WITH JIM BREUER:
Zakk is in a TV pilot with Jim Breuer called Crapshoot. Details are sparse, but it is a rock and roll comedy show. Check out the website for Quicktime movie downloads. This is one of the funniest things you will ever see, I HIGHLY suggest that you check it out!
Crapshoot
I'm not going to spoil a thing for y'all. Trust me, the clips are well worth your time.
And in BLS news, "Mafia" will be in stores March 5.
Thursday, February 03, 2005
LACHMAN IN THE BOX?
For one night only, Damageplan frontman Patrick Lachman
will be performing
with the remaining members of Alice In Chains on February 18 in Seattle.
Alice In Chains and Lachman are part of a tribute concert to benefit the tsunami relief effort in Southeast Asia. Also performing at the Premier on February 18 will be Queensryche guitarist Chris DeGarmo, Heart lead singer Ann Wilson, Nirvana bassist Krist Novoselic, and rapper Sir Mix-A-Lot.
Lachman performing with Alice In Chains raises an interesting question: Could this grow into something more? You may remember Jerry Cantrell collaborating with Damageplan on "Ashes To Ashes", from "The Punisher" soundtrack. While Dropbox lead singer John Kosco has been in the studio with Cantrell in recent months recording the follow-up to 2002's "Degradation Trip", I would have no problem with Lachman working with Cantrell on his upcoming solo album. Lachman held his own with the late great Dimebag Darrell and I for one would love to see him work with another guitar great in Cantrell.
Stay tuned...
Sunday, January 30, 2005
MUSIC IN THE CLASSROOM
Students at a North Carolina liberal arts college took a
four-week course
based on the music of country music star Martina McBride. The female-only Salem College in Winston-Salem, NC studied the lyrics of McBride's music for core values and themes that are often seen in life.
While I'm not a huge country music fan, this is one class I would consider taking, if they had offered this at a co-ed school. I'd definitely take a class on the history of metal. I could only imagine taking one of those scantron tests and having to answer a question such as "Who was the lead singer of Led Zeppelin?" A) Ronnie James Dio, B) Paul Rodgers, C) Robert Plant, or D) Brad Delp.
If you don't know the answer to the question I just brought up, please use
this following link
. You're welcome, by the way.
Friday, January 28, 2005
NEW ALBUM RELEASES
The real reason for this post is so our readers don't have to look at Steve Agueri's face when they first reach Rambling On Music.
There's a few good albums that will be coming out in the coming weeks. Here they are...
FEBRUARY 8
3 Doors Down "Seventeen Days"
Ozzy Osbourne "Bible of Ozz" (box set)

MARCH 1
Judas Priest "Angel Of Retribution"
MARCH 5
Black Label Society "Mafia"
MARCH 22
Queens Of The Stone Age "Lullabies To Paralyze"
Sunday, January 23, 2005
JOURNEY HAS BEEN WALKED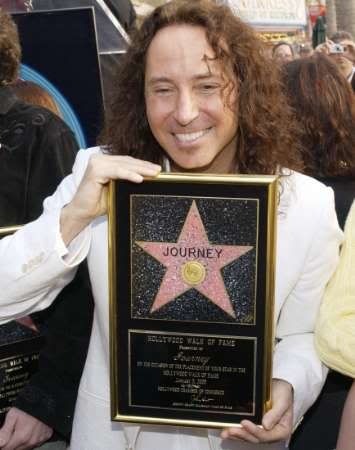 (more on the pic later)
Journey received
a star
on the Hollywood Walk of Fame.
Present at the sidewalk ceremony were guitarist Neal Schon and bassist Ross Valory, who were in the group's original 1973 lineup, as well as keyboardist Jonathan Cain, drummer Deen Castronovo and lead singer Steve Augeri (news), who replaced Steve Perry (news) in the mid-1990s.
[...]
Perry, who was not scheduled to appear, showed up on his own, organizers said.
"No one ever mentions the unsung heroes, the road crew who ... made us look good," he said.

I love the fact that Steve Perry showed up unannounced. It's also sad at the same time, however. Let's face it, whether you are young or old and have listened to at least one Journey song, Steve Perry WAS Journey. There aren't many singers out there who could sing like Perry. Nope, not even Steve Augeri, Perry's replacement.
Speaking of Augeri, how in the hell can he pose for the cameras like he had something to do with the success of Journey? There's just something wrong with that picture and I don't quite have the words to describe it.
Well, don't stop believing, I guess.
Saturday, January 22, 2005
THE NEW AND IMPROVED RAMBLING ON MUSIC
This is the new and improved Rambling On Music.
We launched the site in October 2004, just a mere 3 months ago. But we felt that we needed to change some things up. Mainly, the site design. Instead of a white background with black text, we're taking a page from our sports site,
Sports and Bremertonians
.
All of the links from the original version of Rambling On Music are still at your disposal, although this time around, the links are on the left side of the page, not the right side. If you have any music-related links you want us to put on the sidebar, leave them in the comments box and we'll see what we can do.
If you want to check out our earlier posts (October-December 2004), click on the archives on the sidebar. Or just scroll down after this post and there will be a few posts from the past month or so.
Enough about the redesign for a moment...
Rambling On Music. What does it mean?
The title explains itself. David and I love to ramble about music (or anything that interests us). But here, we'll ramble about music.

What do you guys listen to?
We'll listen to anything that's good. But for the most part, we listen to a ton of hard rock. It's soothing, you know.
Bremerton and Pine Bluff? What the hell?
David's in Bremerton, WA for the time being. I'm in Pine Bluff, AR for the time being. Translation: Six months from now, we plan on being in different locales.
You two strangers who are 2300 miles away from each other?
No, we've been friends since high school. Neil Peart kicked our asses with his drum solo at the Gorge. We're still trying to recover.
Will you hate me if I like Maroon 5?
No. But why would you listen to Maroon 5? Tell me you aren't whipped like Doug Christie.
(I'm kidding. Listen to whatever you want. Just don't crank up Maroon 5 in my headspace, OK? Good deal.)
Brain Stew or Jaded?
BOTH!
--- --- --- --- --- --- --- --- --- --- --- --- --- --- --- ---
So there you go.
If you've been to Rambling On Music before (the 12 of you), welcome back.
If this is your first time here, welcome.
Crank it up. Because some music just wasn't meant to be muted.